About XChange Training
XChange Training are dedicated to providing high quality specialist training to digital creatives for professional skills in 3D, graphics, PDF, web, video and related workflows. The wide spectrum of courses available include key technologies for 3D modelling & animation, graphic design for print & digital, web design and coding, manipulating images, creating infographics, elearning design and video editing & effects. 
We are an Authorised training centre for Adobe, Maxon, Enfocus and Quark and provide a variety of course types across the UK to best suit different learning needs and location requirements including scheduled classes, bespoke courses and onsite tailored options. We have over 10 years experience of teaching creative skills and your learning satisfaction is assured with our established industry expertise, small classes, Certified instructors and convenient booking service.
For access to the full list of applications & technologies we train visit the all courses page or for a clear breakdown of the courses available in each training category view our course category pages below:
Scheduled, Bespoke & Onsite Course Options
To suit varying requirements our courses are available as scheduled group classes, bespoke classroom sessions at our training centres in London & Manchester and onsite tailored courses at your premises. The scheduled courses offer cost effective training for delegates looking to cover core official content at a range of levels from introduction to advanced whilst our bespoke courses are organised for small/large company groups or individual 1-on-1 sessions and are specifically tailored to your requirements and organised on dates that suit your schedule. Tailored training can also be provided onsite at your premises with our onsite courses meaning we travel to you rather than you coming to us!
Training Locations & Dates
Our most popular scheduled classes are provided at training centres across the UK in London, Manchester, Glasgow, Cardiff, Leeds, Newcastle, Bristol, Birmingham and Guildford however our main scheduled training centres offer the full range of courses in London (Farringdon), Manchester (Piccadilly) and Glasgow (Queen Street). Bespoke course options are offered onsite at your offices or at the London, Manchester or Glasgow training centres which are also the locations for the more specialist scheduled courses. Visit our locations page for details on each location including address and map or view the full list of upcoming dates for London, Manchester and Glasgow on the links below:
Certified Instructors
To ensure your training is fully Authorised and provided by experienced professionals all our courses are delivered by Certified instructors and industry experts. Our trainers have both a history of teaching the associated skills and first hand knowledge of using the technologies in real life production environments. This means we can teach you the skills you need along with the best approach to be the most productive and effective in each specialist area.
Course Promotions
At XChange Training we provide an excellent standard of training for digital creatives in print, web, video and 3D and we also offer periodic promotions and discounts for charities and other applicable clients. We aim to ensure learning requirements are met at the best possible value.
For our core scheduled courses in London & Manchester we offer a 15% discount to self-funding delegates. Registered charities and educational establishments are also entitled to a 15% discount off these scheduled courses. See our promotions page for details of current special offers, including our popular half price training offer(!) and confirmation of the full range of available discounts for applicable course bookings.
Services & Consultancy
With the specialist knowledge of the creative and publishing professional industry that XChange Training has built up over the years, in addition to our training courses, we also offer a range of services in the same areas of focus. We provide consultancy and assistance services for clients in a number of different stages of the digital workflow from creative to print and from small project work to complete workflow review and upgrades. Look over our services page for more details about our expert knowledge in 3D design, PDF workflows, graphic design, web design, data driven websites and numerous other areas we offer project services for.
Software
In conjunction with our training area of expertise we offer a number of related software tools for direct purchase and also provide full information and links on the Adobe Creative Cloud. Available software licences for sale include Enfocus PDF Technology products, Em Software, Maxon Cinema 4D and Trimble SketchUp Pro. Check our software page for full details and discounts available software from XChange Training.
Frequently Asked Questions
Full details for our training classes are provided on the individual course pages however answers to our most common queries can also be found on our frequently asked questions page which covers general queries on cost, class size, location options, tailored courses, discounts etc. 
Learning Resources
To offer you the best post course service possible in addition to our post course support we have also compiled a list of useful website links on our learning resources page. The categorised website links provide access to a range of beneficial software resources including software tutorials, support pages, tips & tricks and user forums.
Contacting Us
Should you need further information about XChange Training or our courses, contact us via email, complete our contact us form, make an enquiry direct from a course page or simply call us on 0345 363 1130
I've been coming back to XChange Training for all our digital needs not least because the convenient booking service but mainly because the level of expertise from the trainers, who are all industry specialists, is second to none.
Nick Laws, University of Westminster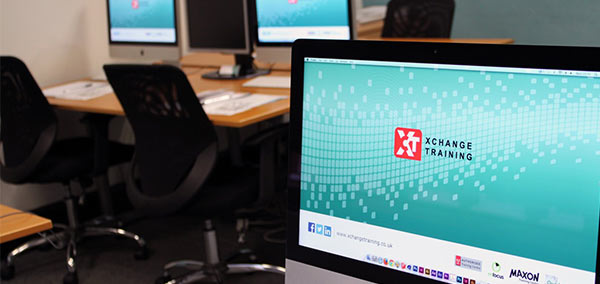 I've been on several courses at XChange Training in London and each one has been excellent. The centre itself is very easy to get to from Farringdon station with superb facilities and a free lunch voucher is included on each visit too!
Nick Allen, MoneySupermarket