Adobe Certification Training Courses
Adobe Certification gives you the chance to be recognised for your digital media skills and get yourself noticed by current or future employers! 
If you are looking to get your Adobe knowledge officially recognised then becoming an Adobe Certified Associate (ACA) will give you the qualification you need. The ACA qualification both formally demonstrates your specific Adobe skills and gives you that extra edge to differentiate yourself from other digital creatives. The Adobe Certified ACA courses from XChange Training include a range of options to develop your skills and get qualified in the technology at the end of the course. Whether you want to learn from beginner to advanced in 5 days or add to your existing skills with an advanced class and get Adobe qualified we have the ACA course option to suit you.
Adobe ACA Badges
Now when you earn one of the ACA certifications available with our courses you will receive a corresponding ACA digital badge which can be used to boost your online profile. Get qualified with XChange Training and use your ACA digital badge to tell potential employers, academic institutions, colleagues and peers about your ACA credentials.
ACA Masterclass Courses
Join us on one of the Adobe ACA 5 Day Masterclass courses to go from being a novice to mastering the advanced tasks in InDesign, Illustrator, Premiere Pro, Dreamweaver or Flash. During the 5 day courses we will show you how to take charge and become a power user, pass the ACA exam and get ACA qualified!
ACA Advanced Courses
To build on your current skills in InDesign, Illustrator, Premiere Pro, Dreamweaver or Flash we offer the advanced level and ACA exam courses to join professional users in getting the best out of these leading digital media applications. During the courses we will show you how to unlock the power of the advanced tools and help you to become a more proficient and confident user, pass the ACA exam and get qualified!
Adobe and XChange Training offer ACA Certification in 6 skills areas:
Benefits of ACA Qualification
The ACA certifications offer many benefits to delegates and with the qualification under your belt you are certain to be better prepared for success in a demanding professional environment. Whether seeking employment that requires the ability to use the digital media technology or get recognition of your expertise, the ACA certification is sure to be advantageous for you.
Key ACA benefits:
Formal recognition of your Adobe skills
Official qualification for your CV or profile
Differentiate yourself from other creative professionals
Becoming Certified in Adobe InDesign with the ACA qualification has made a huge difference in the amount of interviews I've been asked to attend over the last six weeks. For once I feel like I'm in control of my career, being able to actually be choosey who I work for. Even if you're not a designer, with more and more editorial jobs asking for InDesign experience, you'll find this certificate makes you stand out.

At XChange Training the class sizes were small, allowing for questions to be answered quickly and there was useful help and advice between students.
Velo Mitrovich
InDesign ACA Exam Courses
London
Manchester
Glasgow
Photoshop ACA Exam Courses
London
Manchester
Glasgow
Illustrator ACA Exam Courses
London
Manchester
Glasgow
Premiere Pro ACA Exam Courses
London
Manchester
Dreamweaver ACA Exam Courses

London

Manchester

Flash ACA Exam Courses

London

ACE Preparation Courses

For existing advanced users looking to build skills and prepare to take the Adobe Certified Expert (ACE) exam
we offer a range of bespoke courses to give you the higher level skills needed to get this expert level Adobe qualification. The courses are available in preparation for the ACE exam are available for InDesign, Photoshop, Illustrator, Premiere, Flash, Dreamweaver, Captivate, After Effects and Acrobat. For more information about ACE preparation courses email us at info@xchangetraining.co.uk with your requirements and we will advise an appropriate structured course to suit your needs.
I've been coming back to XChange Training for all our digital needs not least because the convenient booking service but mainly because the level of expertise from the trainers, who are all industry specialists, is second to none.
Nick Laws, University of Westminster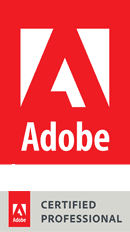 I've been on several courses at XChange Training in London and each one has been excellent. The centre itself is very easy to get to from Farringdon station with superb facilities and a free lunch voucher is included on each visit too!
Nick Allen, MoneySupermarket